Day 9: Back to Quito and Teleferiqo (Cable Car) ride
We were scheduled to leave the Galapagos islands on this day and fly back to Quito. Michael was flying back to San Francisco the same night, while my flight was the next day. Since Isabela doesn't have a major airport, we first had to travel to Baltra island and fly out of there. We were picked up by a driver arranged by our tour agency around 5:30AM and driven to the Puerto Villamil harbour. From there, we boarded the water taxis that took us to the speed boats parked a few hundred feet away. The speed boat tickets had already been purchased by our driver. The speed boat took 2 hours to arrive at Puerto Ayora harbour on Santa Cruz island. Another driver was waiting for us there (holding a sign with our names on it). He dropped us to a restaurant where we had a quick breakfast and then drove us across Santa Cruz island to the ferry terminal, which is on the north side of the island (about a 45 min ride). From there, we again boarded a water taxi to take us to the Baltra island ferry terminal and then a bus to take us to the airport (~5 min ride). We finally arrived at the airport around 11:10 AM. Another guide met as the airport and helped us get boarding passes for our flight to Quito. We had our boarding passes in hand about an hour before our flight to Quito. As you can see, there are several steps involved in getting to Baltra airport from Isabela, and if you miss any of them, you may miss your flight! The tour agency did a great job providing local guides to help us through every step of the way.
We arrived in Quito around 4PM. We had arranged with Daniel, our tour guide in Quito to pick us up and take us to the Quito TeleferiQo (cable car), one of the popular attractions in Quito. The TeleferiQo is one of the highest aerial lifts in the world. It travels 2,237 linear meters in just 8 minutes, rising from 3,117 meters (10, 226 ft) to 3,945 meters (12,943), offering amazing views of Quito (if a cloud is not covering the view).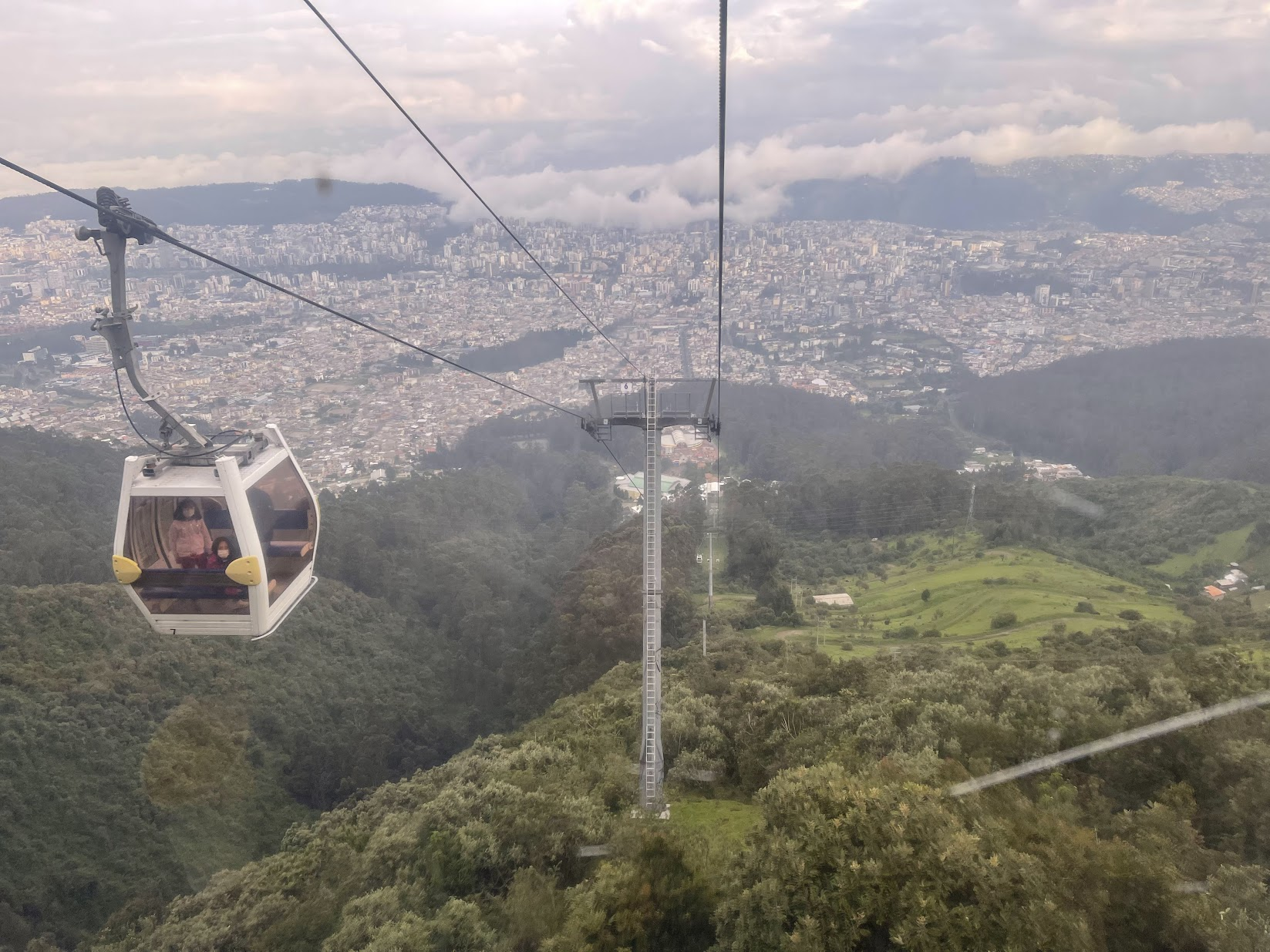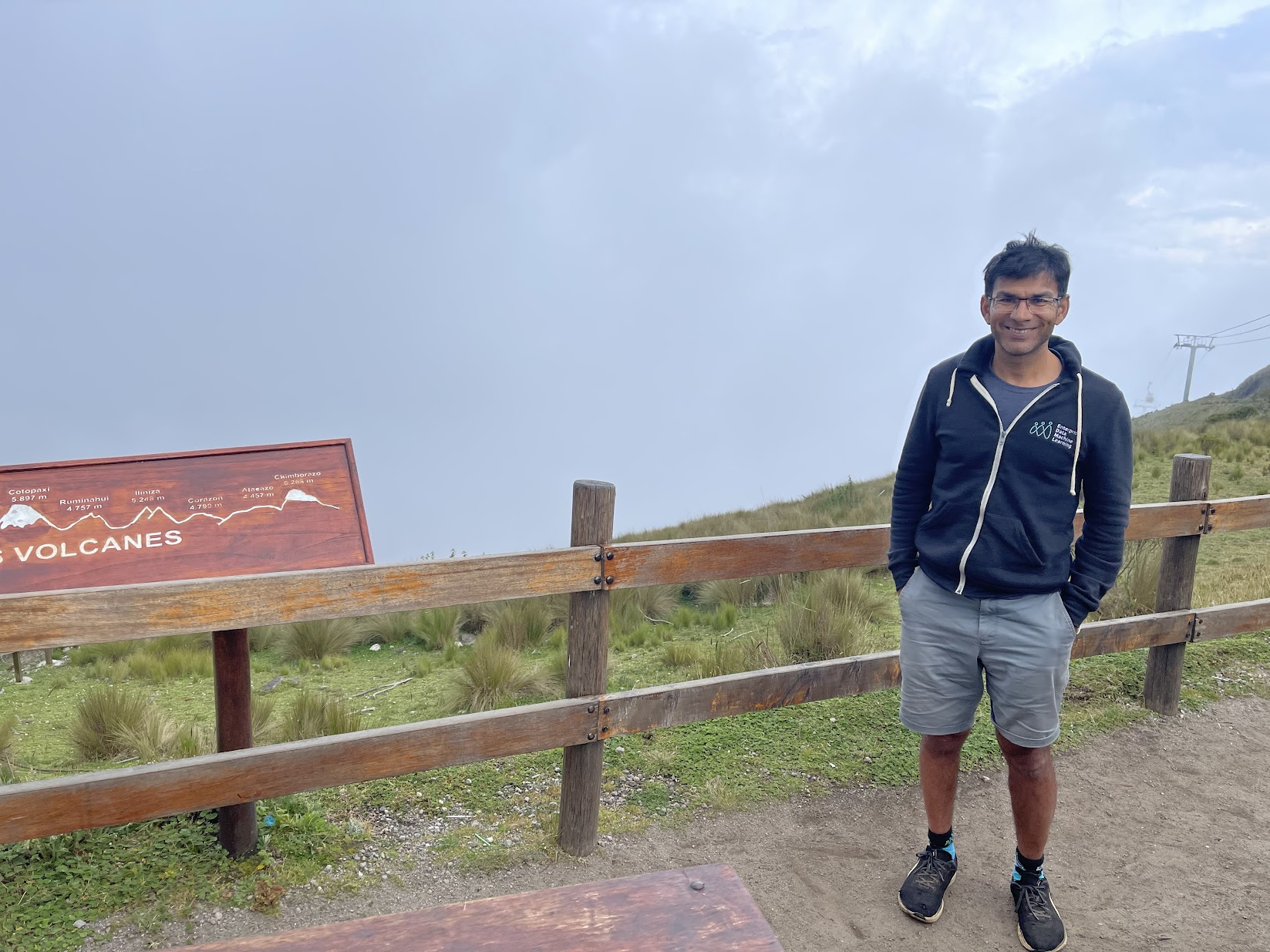 After the TeleferiQo tour, Daniel dropped us to our hotel. Mike and I got dinner at an Italian restaurant and bid farewell since Mike was departing later that night.
Day 10: Visit to Cotopaxi 
This was my last day in Quito. My flight back to the states left at around 6:30 PM so I had the morning plus early afternoon to squeeze in another activity. Before leaving for the Galapagos cruise, I had arranged with Daniel, our tour guide to pick me up early in the morning and drive to Cotopaxi National Park. Hannah, a Finnish girl I met on the cruise, was also interested in going to Cotopaxi. 
So I got up early in the morning, packed up my stuff and headed downstairs to meet Daniel who arrived promptly at 6:45 AM. He had already picked up Hannah along the way. We made it to Cotopaxi national park in about 2 hours with a quick sandwich stop along the way. At the Cotopaxi visitor center, the attendant took down our names, passport number and other info and we continued along to a parking lot which is where people start their hikes. The ride to the parking lot took about 40 minutes and was super bumpy. The last 50 meters stretch before the parking lot was particularly treacherous. Daniel's front wheel drive Kia finally made it up the slope after some deft maneuvering but that stretch really called for a 4 wheel drive vehicle.
Rising up to 19,347 feet, hiking Cotopaxi is no joke and takes more than half a day even for experienced climbers. The parking lot itself is located at ~15000 feet and I started feeling a bit light headed as soon as I got out of the car. There is a refuge called Jose F. Rivas that is located at 15744 feet on the path towards the summit that can be hiked in about an hour. Hannah and I decided to hike to the refuge. There are two trails that can be followed to the refuge. The most straightforward trail runs straight to the refuge along the face of the mountain. The other zig-zags along the side of the mountain and therefore has a lower gradient. Hannah and I were feeling lightheaded even walking on flat ground, so we decided to take the easier path. Even then, I was having to stop every few steps to catch my breath. The path was mostly loose gravel and called for sturdy hiking shoes, not the running shoes I was wearing. Hannah was faring even worse than me and after a few turns wanted to turn back around and go back. By that time, my body had started to adjust and I was starting to feel better. So I encouraged Hannah to hang on thinking that she'd get to the same point soon, and thankfully she did. The hike offers gorgeous view of the vast, open, seemingly endless Andean páramo sprawls.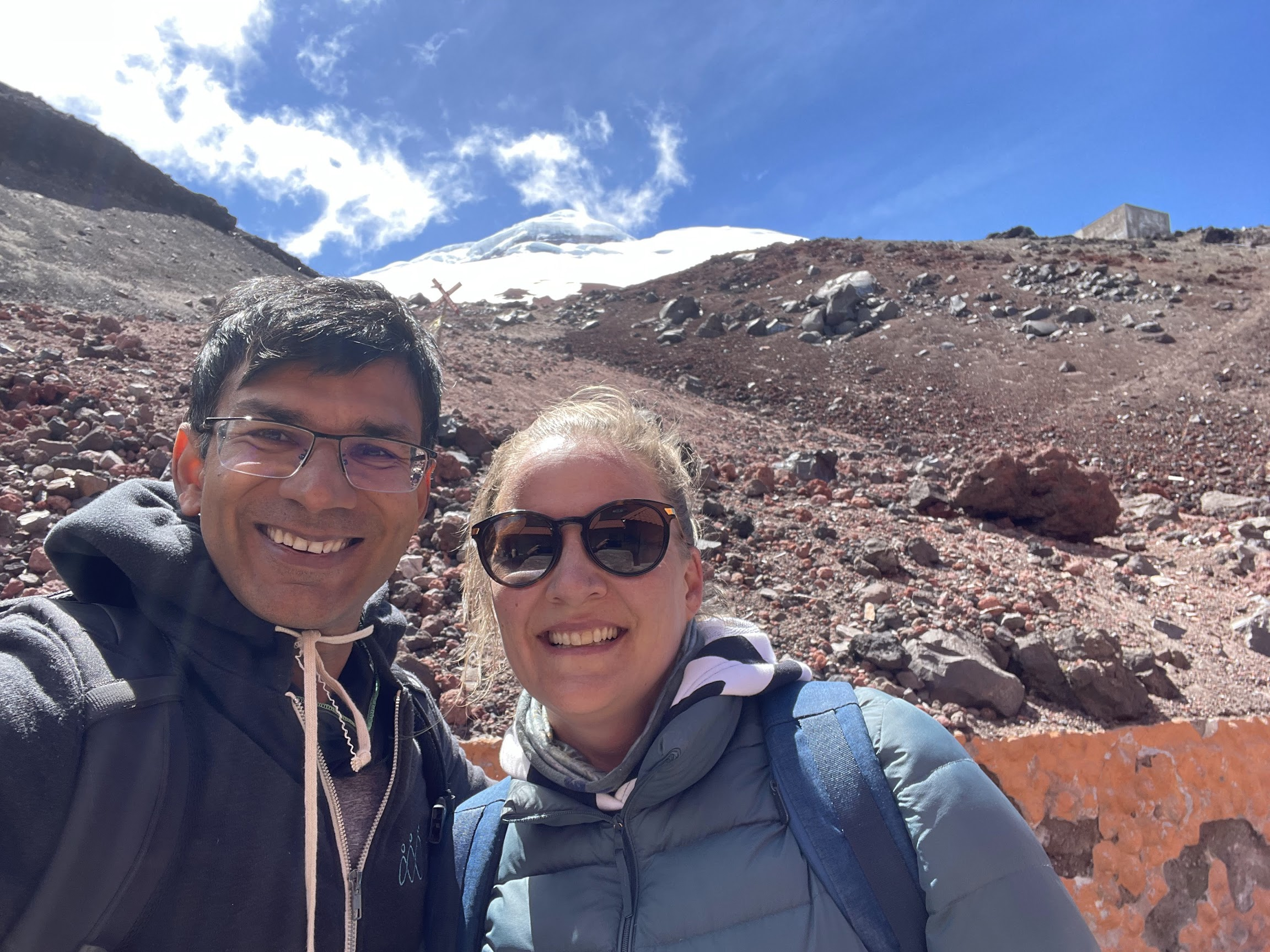 We made it to the Jose Rivas refuge after about an hour of hiking. We had a snack, rested for a bit and then made our way down. We considered taking the steep path down, but quickly realized how easy it was to slip because of the gradient and loose gravel. So we took the zig-zag path down again. Overall, this hike was a great experience. I definitely recommend doing it for a mildly strenuous but fun physical challenge and enjoying some gorgeous views of the mountains and breathing fresh mountain air.
Daniel had kindly brought along two mountain bikes. So after the hike, Hannah and I biked about 15 Km downhill from the parking lot. It was a fun but really bumpy ride, even on a bike.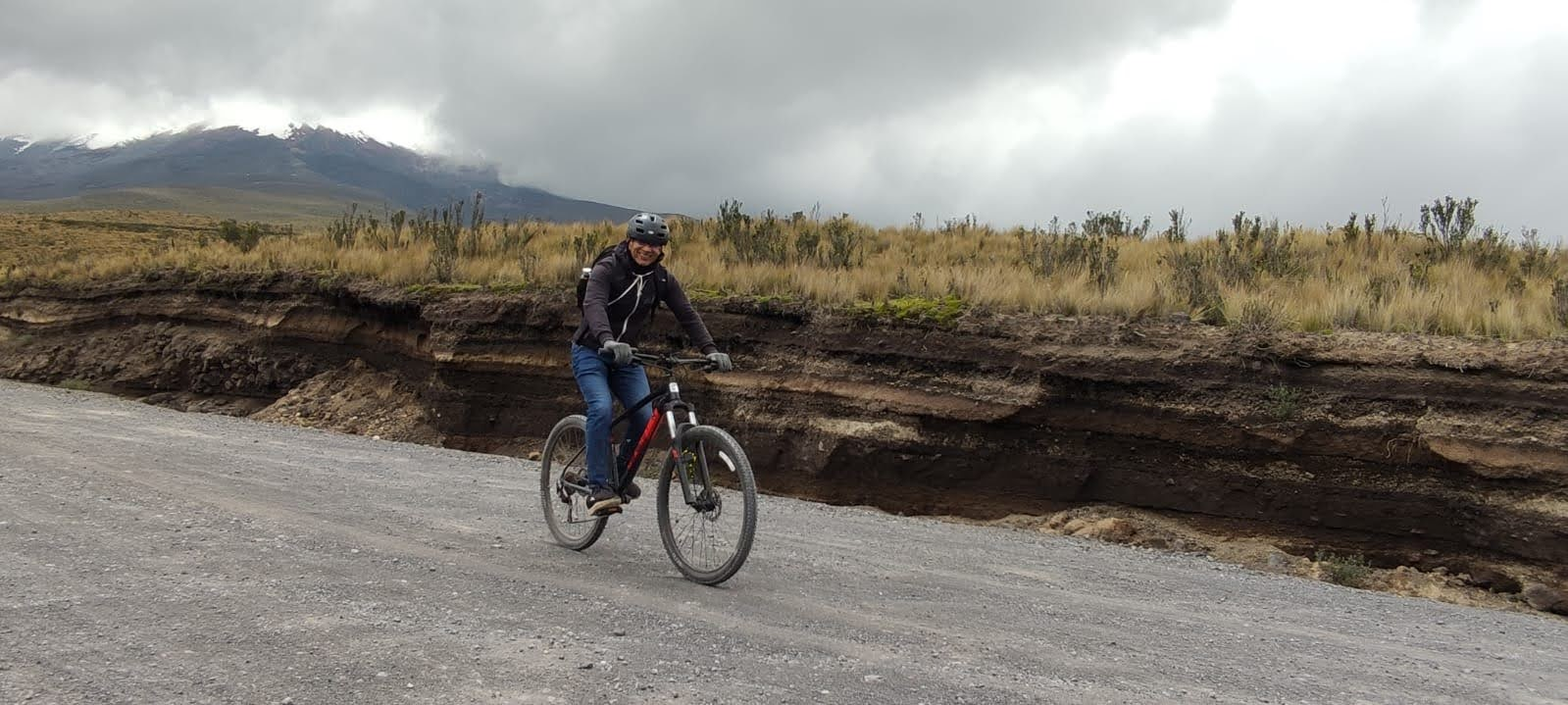 On the way out of the park, we stopped to check out the lovely Laguna Limpiopungo.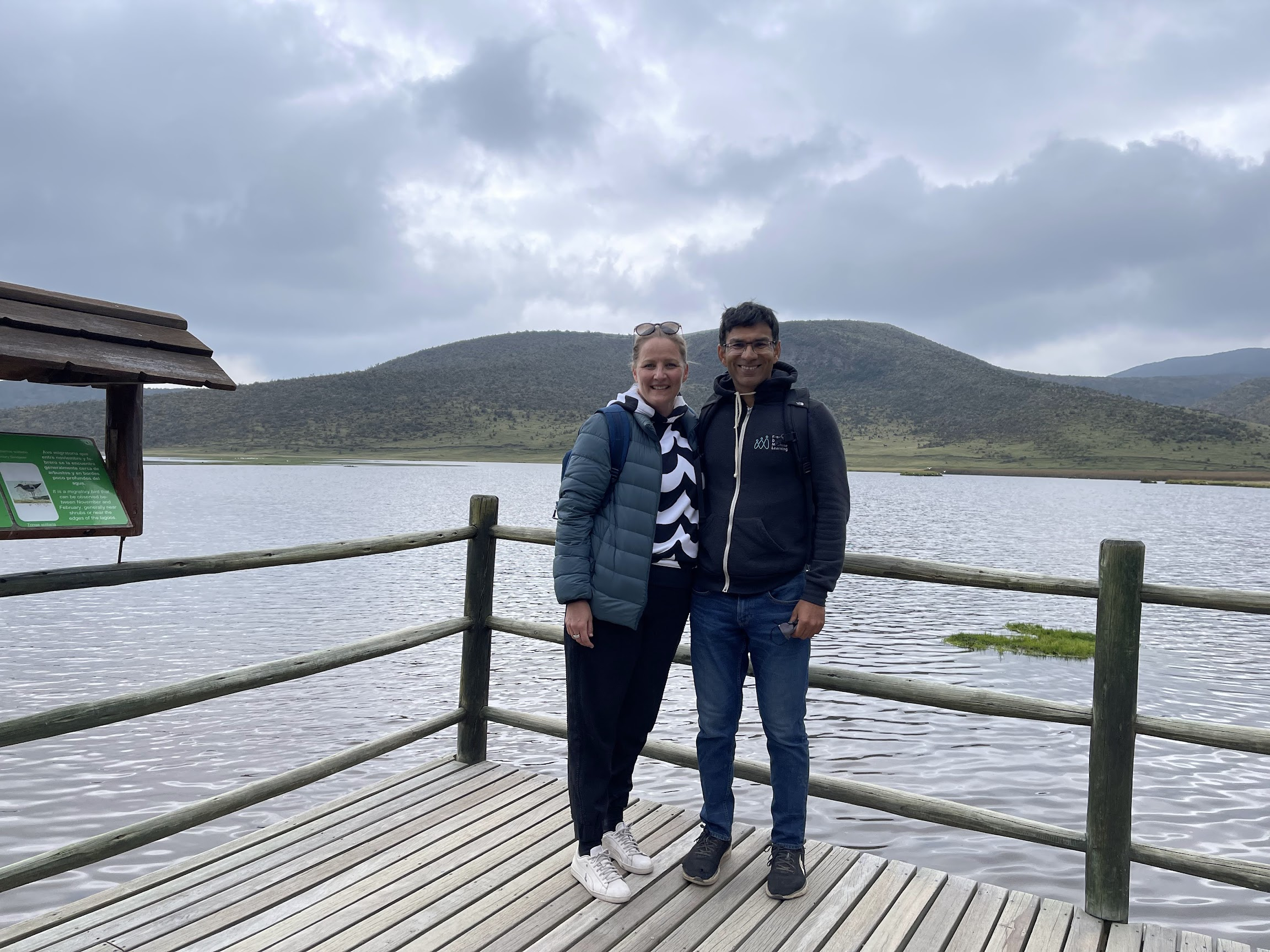 On the way to the airport, we ran into an interesting Ecuadorean custom called "letting it burn" where boys called the Viudas fin de Año (Widows of the Old Year), dressed in cheap dresses, wigs and masks pounce upon passing vehicles to collect alms. According to the tradition, these "widows" are out collecting alms for the new year since their husbands will be burned in effigy that night, so the story goes, but of course the few coins that are gathered from passing motorists and onlookers are going to pay for candy or beer, depending on the age of the boy.
That was it! Daniel dropped me at the airport and I had an uneventful journey home flying Copa airlines through Panama.