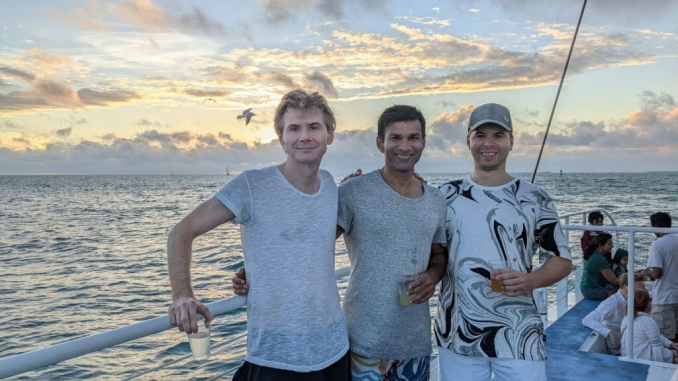 I traveled to Miami and Key West from Nov 20-24th to visit Michael and Leo who were also visiting Miami from San Francisco and New York respectively. I also got to spend my birthday with close friends. I had been to Miami briefly several years ago but don't remember much from that visit and hence this was almost a first visit for me. We stayed in apartment style suites in a high-rise, waterfront hotel building in the Sunny Isles neighborhood of Miami. Sunny Isles is popular among Russian and Ukraine transplants from New York and other East Coast cities who have decamped out of cold and "controlling" New England and Mid Atlantic cities for the warm and sunny climes and the "do as you please" culture of Florida. As other immigrant cultures that lived under decades of communist yoke, Russians in the US instinctively recoil against rules, mandates or any government action that has an authoritarian ring to it. The Covid masks and vaccine mandates instituted and enforced by several large cities and that the Biden administration is attempting to enforce nation-wide is one example. To me, such mandates are an appropriate use of government authority in response to a national emergency. I fully understand the "don't tread on me" attitude and appreciate that a healthy skepticism of and push back against federal rules and mandates is necessary to resist the natural tendency of the federal government to slowly and steadily increase its scope and reach. However such an approach is uncalled for in the case of Covid, where the safety and efficacy of Covid vaccines have been thoroughly established and where an individual's decision to not get vaccinated affects not just them, but the community around them. There is simply no rational reason for a healthy person to not get the Covid vaccine, because the choice isn't between getting or not getting the vaccine; it is between getting covid or getting the vaccine. Whatever side effects the Covid vaccine may have, they pale in comparison to getting the real thing. Rant over.
I had a direct flight from DCA to Miami in the morning. From the Miami airport, I took a taxi to our hotel, which took about 40 min. I was feeling a bit under the weather, so I took a nap and read for a while. In the evening, we drove to the South Beach area and walked around South Pointe park, located at the southern end of the ocean facing part of Miami, just north of Fisher island. It was very windy and raining intermittently so we kept the walk brisk and relatively short. We saw a massive cruise ship pulling out of the harbor, which was an impressive sight, and a new experience for me.
Thankfully, the rain stopped soon and we walked a few blocks around South Beach and Collins ave, teeming with night clubs, restaurants and bars. The atmosphere seemed similar to LA, San Diego and other large, sea-side US cities. This was a bit of surprise for me, as I was expecting Miami to be a bit more unique with its large Cuban and Latin American population. We had a delicious dinner at an Italian restaurant and then drove to Tatiana, a Russian nightclub, highly recommended by Leo. We didn't stay long as there was a senior birthday party going on at Tatiana and there weren't many people our age. We ended up watching Predators (2010), an action movie where a group of elite warriors parachute into an unfamiliar jungle and are hunted by members of a merciless alien race. It was a fun movie to watch!
The next day, we drove to Key West, the southern most Florida keys. The drive took us about 4.5 hrs, as we ran into traffic about half hour out of Miami. The last hour of the drive involves driving over several bridges that connect the Florida keys with breathtaking panoramic views of the shallow, blue-green water.
The geology of Florida keys is quite interesting. They are an ancient coral reef. The Upper Keys islands are composed of accumulations of limestone grains produced by plants and marine organisms; the Lower Keys are the remnants of large coral reefs, which became fossilized and exposed when the sea level dropped. The word "Key" is derived from the Spanish word "cayo", meaning "small island". The Keys were long accessible only by water. This changed with the completion of Henry Flagler's Overseas Railway in the early 1910s. This railway was partly destroyed during a major storm in 1935 (one of only 4 cat 5 hurricanes to hit the US). The storm also destroyed several new bridges that were under construction to connect a highway through the entire Keys. Hundreds of World War I veterans working on the roadway as part of a government relief program were housed in non-reinforced buildings in three construction camps in the Upper Keys. When the evacuation train failed to reach the camps before the storm, more than 200 veterans perished. The bridges were eventually finished and the Overseas Highway (U.S. Highway 1) replaced the railroad as the main transportation route from Miami to Key West. The longest bridge called the Seven Mile bridge connects Knight's key to Little Ducks key is ~6.8 miles long!
We stopped by the Bahia Honda park on the way to take a break and do a short hike. It was interesting to learn about the crucial role sea weed plays in the local ecosystem. Decomposition of sea weed provides the organic material that makes the growth of other plants possible.
We arrived at Key West around 5 and got a late lunch. After lunch, we checked into our hotel, rested a bit and then went for a walk along Duval street into the lively part of Key West. We had drinks at a nice rooftop bar, stopped by a bar to listen to a great rock band playing some of my favorite Queen, Metallica and Bon Jovi songs and even went to a strip club (on Leo's request). Strip clubs are definitely not my thing, but can be a fun experience in the company of two other guys 🙂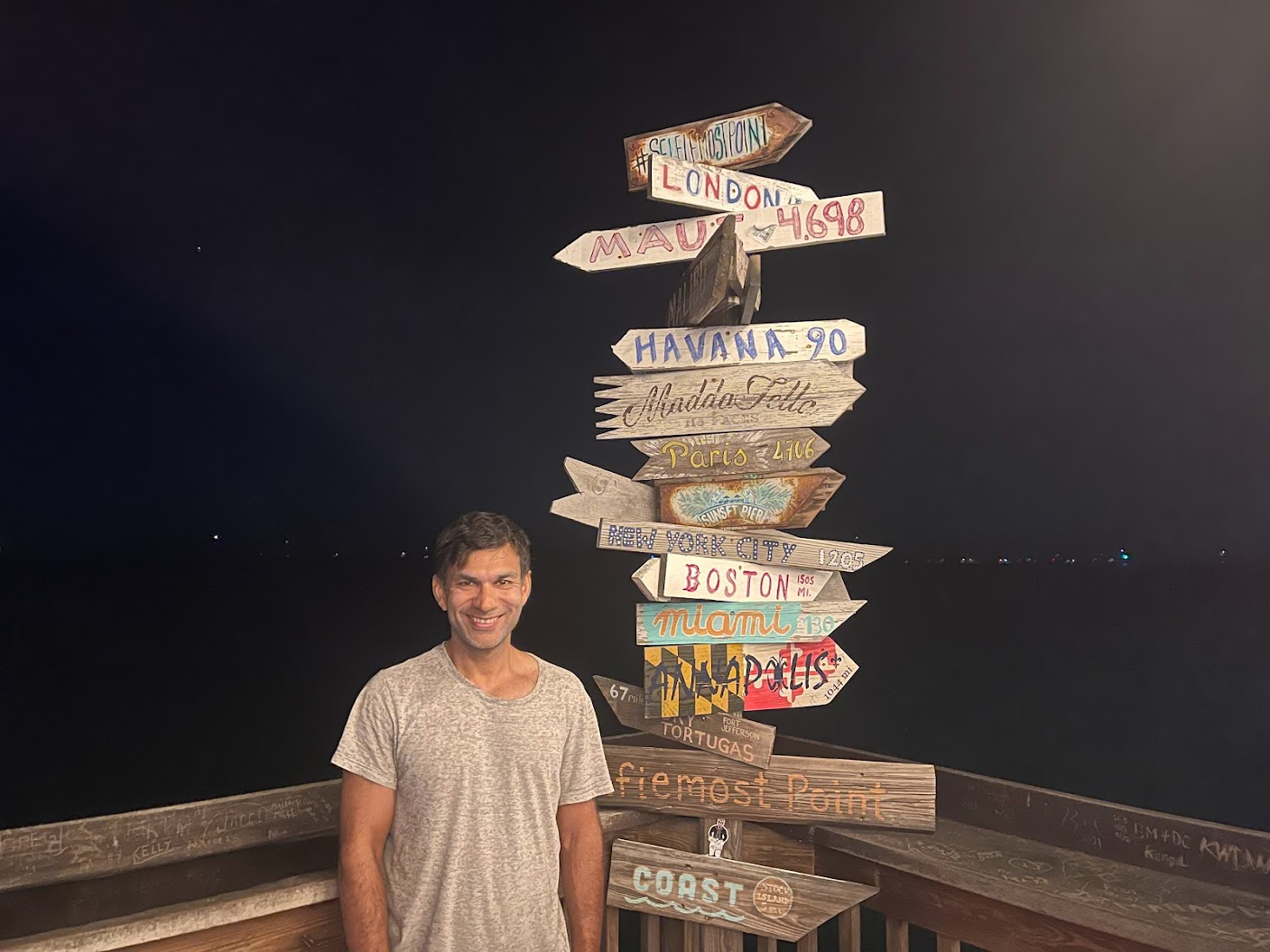 The next day, we did an awesome jet ski tour around the island and even saw some Dolphins. In the evening, we did a sunset sailing cruise with a live band. It was a windy day and cool by Key West standards. Plus, I was still in my wet clothes after the Jet Ski tour, because I didn't get a chance to change clothes. So I mostly stayed inside the boat, trying to shelter from the wind. It was also my birthday that day and it was awesome to spend time with two close friends.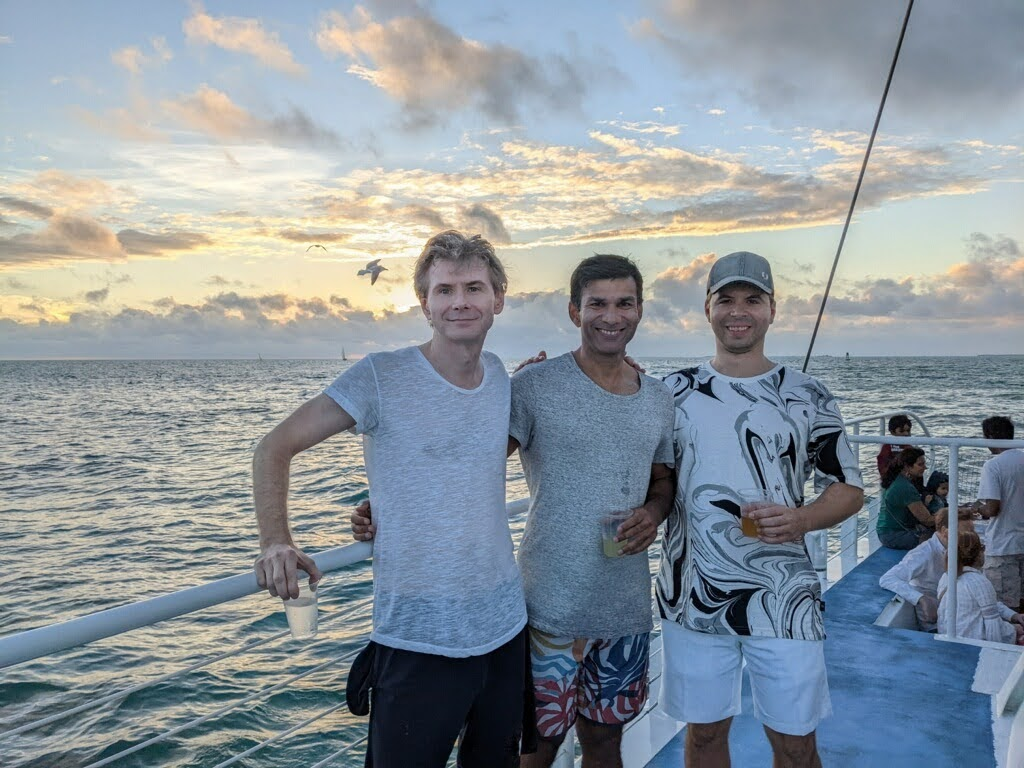 After the sunset cruise, we got dinner and then drove back to Miami. We saw several cars pulled over by cops (presumably for speeding) along the way. We got back to Miami around 1 AM and went to bed straightaway.
We had a pretty chill day the next day. I'm preparing for the AWS solutions architect certification, so I listened to a few lectures and read a bit. In the afternoon, Mike and I went for a swim. It was super nice to have the beach right behind our hotel! Around 4, I drove to Oleta River State Park, about a 15 minute drive from our hotel. The park has some nice kayaking and biking trails. I rented a cruiser bike and biked around the lovely woods for an hour or so.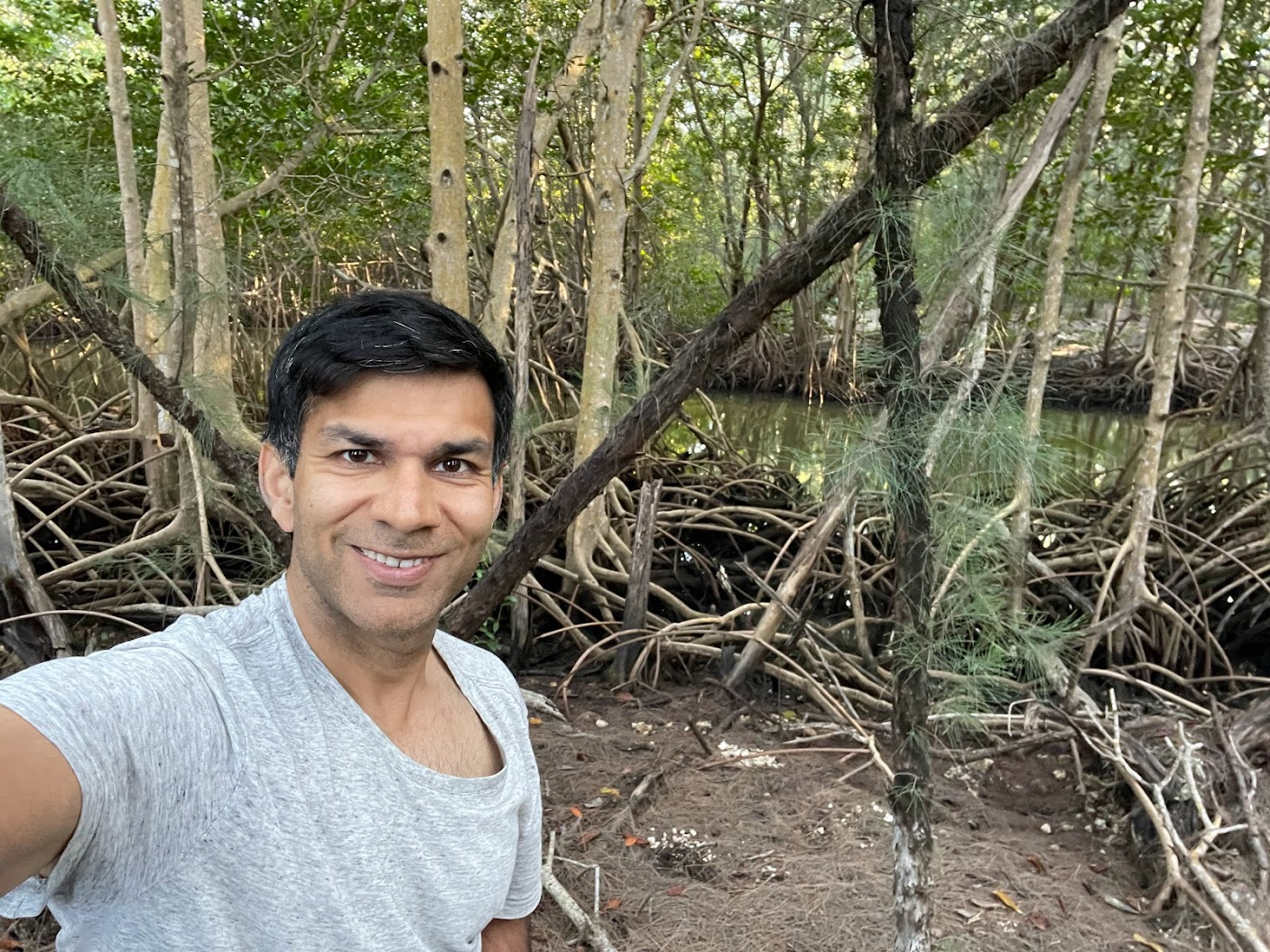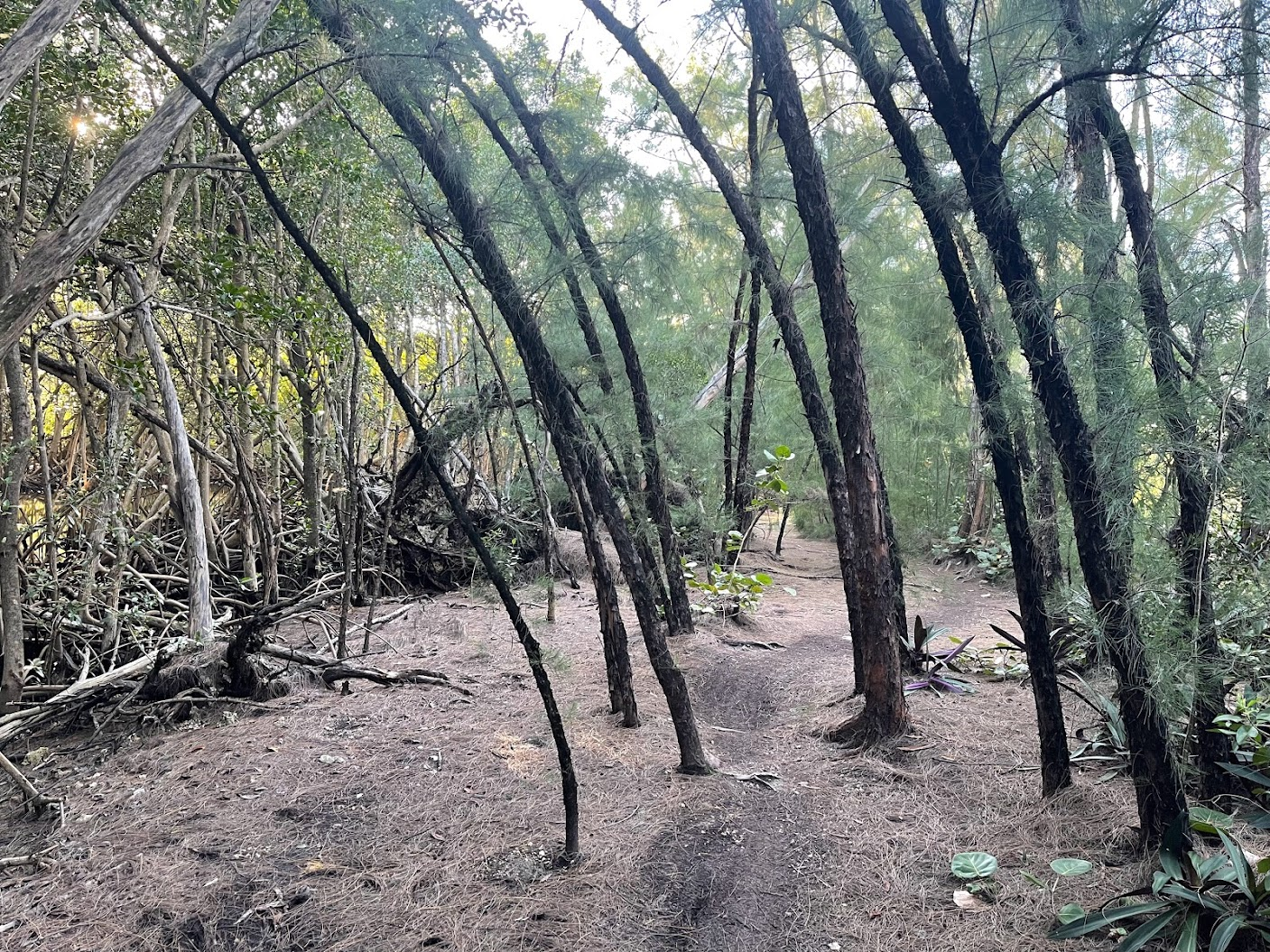 Around 6, we drove to Mila, a fancy restaurant in downtown. The ambiance, decor, music and food were excellent. I highly recommend Mila for a classy (and expensive) dining experience.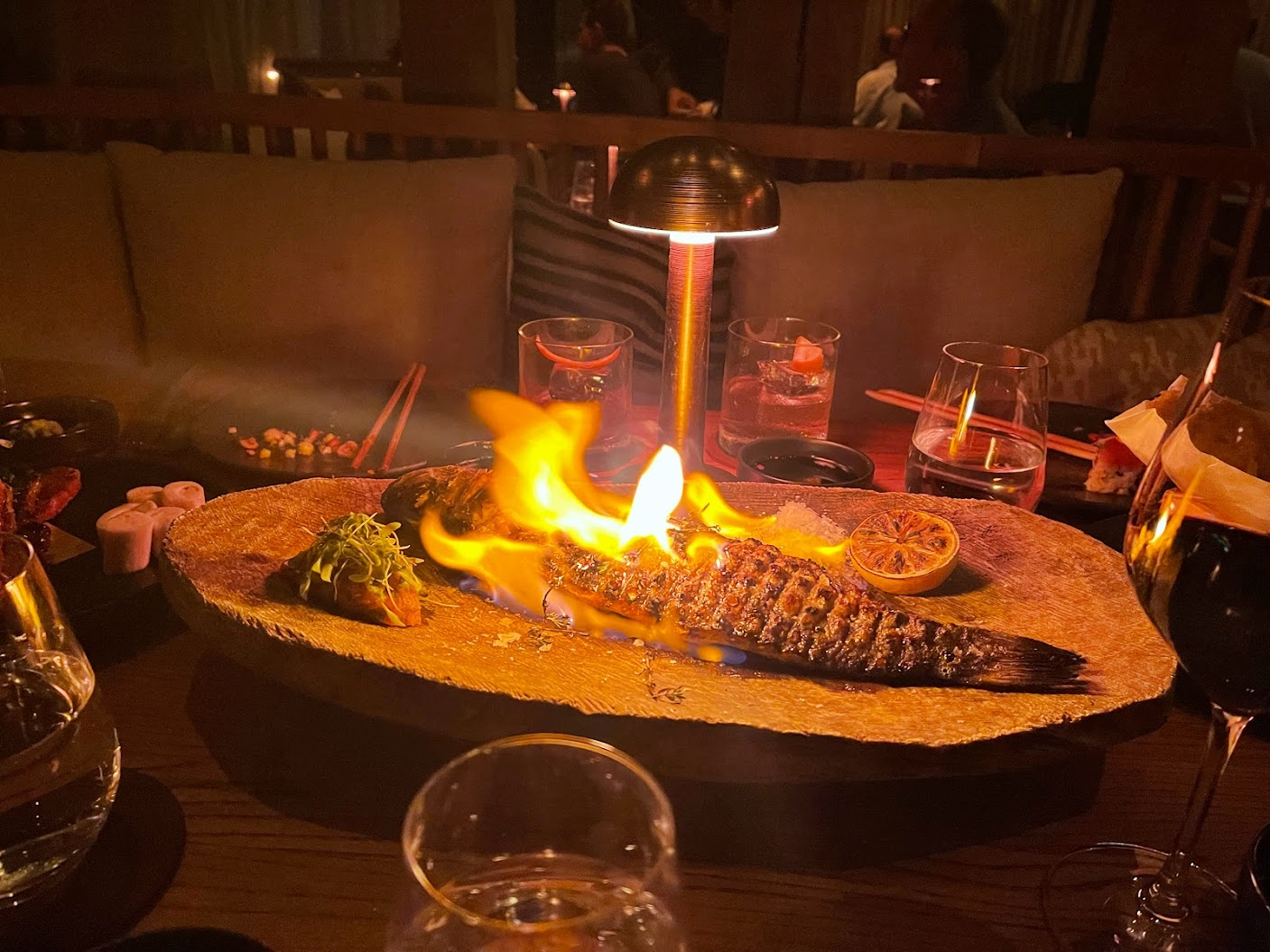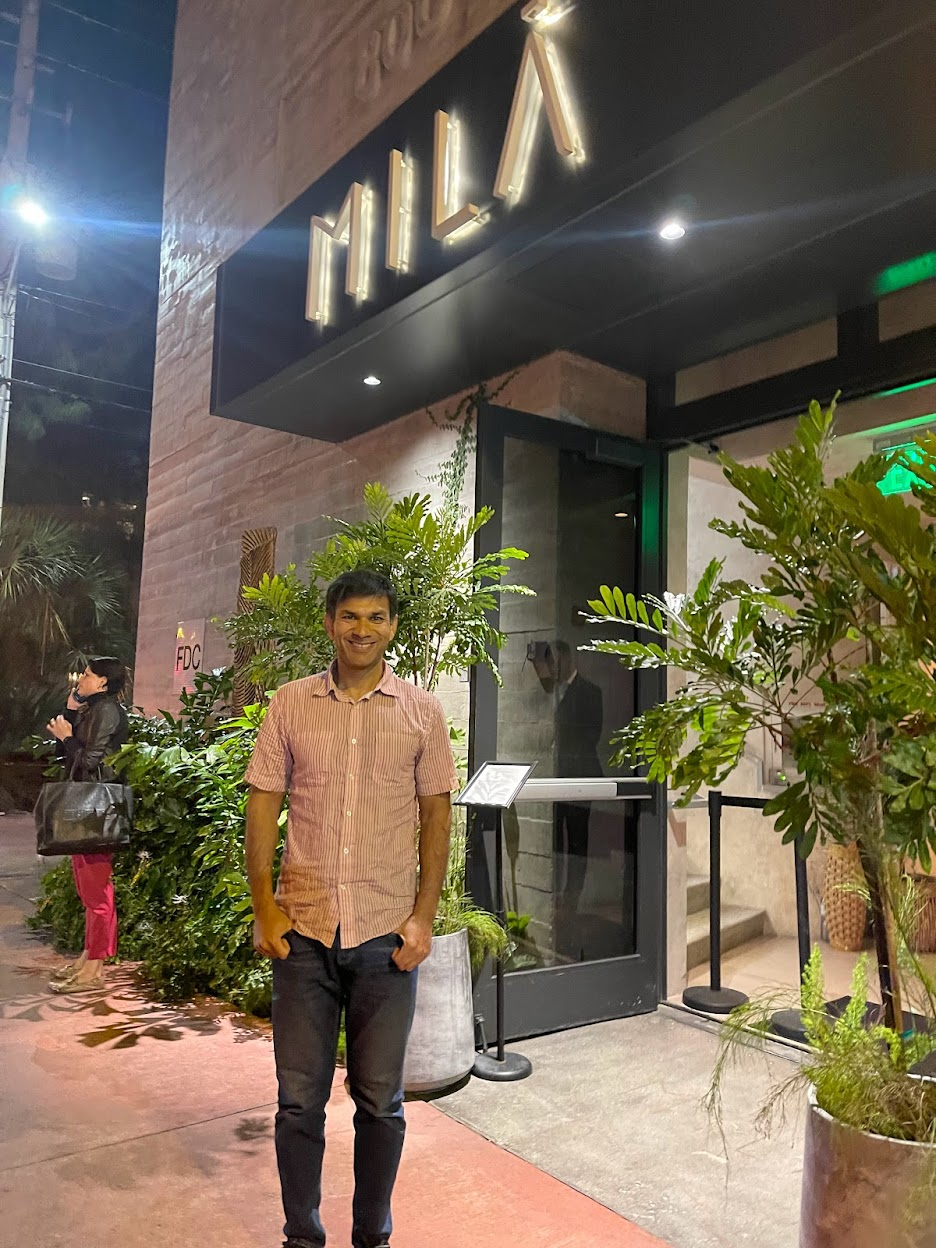 Mike had to leave early morning the next day. I checked out of our suite, and transferred my luggage to Leo's room. I spent most of the day reading and studying. Around 6, I took an Uber to the airport and caught my flight home. The airport was teeming with thanksgiving travelers, but going through security didn't take much longer than usual.
It is funny that in a world full of excellent food choices, one often finds themselves eating at the same place over and over again. We ate at Treesome natural food at least 5 times in the 4 days I was in Miami. I highly recommend it for healthy, wholesome, no-added sugar, yummy breakfast/lunch at reasonable prices 🙂