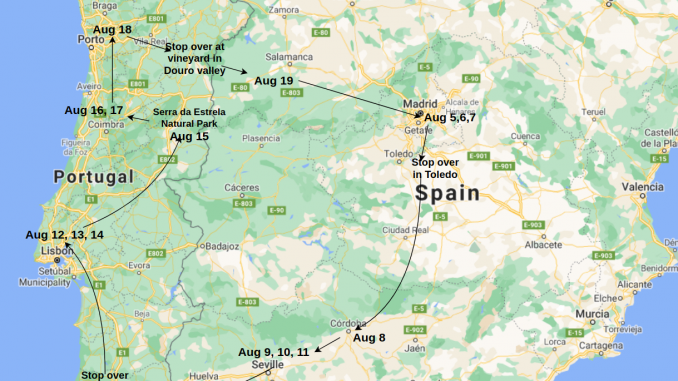 Rachel and I spent Aug 5 – 20 traveling around in Spain and Portugal. International travel during Covid times is obviously fraught with uncertainty about unclear and inconsistently applied rules and regulations. We are both fully vaccinated and in pretty good health and thus were not too concerned about catching Covid, however we were concerned about getting infected and being subjected to a lengthy quarantine. Fortunately, none of that happened and we both had a great time in Europe.
At the time of our travel, European countries had different rules about international travel. Some required a proof of negative Covid test, while others didn't. We flew from JFK to Madrid via Milan. At JFK, we had to fill out a lengthy and poorly implemented web form about our health status, travel plans etc. Filling out the form required some assistance from the staff at the check-in counter. We had both taken a Covid test 24-48 hours before our flight just to be sure, but were only asked for our vaccination cards. I had taken an online proctored antigen test using a nasal swab offered by eMed that is also valid for re-entry to the US. The tests came in a package of 6 and cost $150. Rachel took a Covid test with her healthcare provider. The rules for traveling to Europe are constantly changing in response to the rise and fall in case numbers in different parts of the world. The WSJ reports that many European countries are tightening restrictions on non-essential travel for Americans.
We had spent a lot of time reading up about Covid related rules for traveling within Europe. The US embassy website for Portugal indicated that a negative Covid test was required for entry into restaurants and hotels (including abnbs). In reality, none of the hotels/abnbs and restaurants in Spain asked for a negative Covid test. However all the hotels/abnbs asked for our vaccination certificate/record. The vaccination record card bearing the CDC logo was accepted everywhere. In Portugal, our abnb in Lisbon asked us to take a Covid test when we checked in (in addition to checking our vaccination card) and one of the restaurants in Lisbon checked our vaccination record card before letting us in. All the other hotels/abnbs in Portugal only asked for the vaccination record card and didn't require a negative Covid test. The nasal swab based antigen Covid tests are readily available at pharmacies in Europe for 9-10 Euros, so even if proof of negative covid test is required, it isn't a big deal. The tests are easy to administer and results are available in 10-15 minutes after taking the test.
At the tail end of the trip, I flew to Helsinki to spend a few days with my brother. Again, only the vaccination record was required to board the flight from Madrid to Helsinki. At the Helsinki airport, free Covid testing was available so I got tested anyway just to be sure since my brother has a 2 year old daughter who is obviously not vaccinated. One day before my flight back to the US, I took the proctored eMed test. The airline staff asked for the vaccination card and the negative covid test before issuing the boarding pass. Somewhat to my surprise, no Covid related documents were asked upon landing at the Dulles international airport in VA.
How much cash to bring
International credit cards are almost universally accepted in Europe. Few places we needed to use cash were some toll plazas and parking lots that didn't accept our credit cards. Also, our car got towed (more about that later) twice and we had to pay 174 Euros in cash at one of the municipal police stations to recover the car.
Traveling around
As you can see from the trip itinerary below, we covered several cities in Spain and Portugal on our trip. To make traveling easier, we rented a car in Madrid from Sixt car rental. At the car pickup, we were able to get an upgrade to a BMW for just a few Euros more each day. The car made traveling across cities very easy. Upon arriving at our hotel/abnb, we'd park the car in the closest parking garage. The daily parking charge was around 10-20 Euros per day, around what you pay for parking for 2-3 hours at the Wharf in DC! The parking garages were easy to find in city centers.
Twice, our car got towed. This happened once in Coimbra and once in Porto. In Coimbra, we likely ran afoul of a regulation to move the car in the morning and in Porto, we parked in a handicapped parking spot. The parking regulations are typically only written in the local language and not prominently displayed, so it is best not to risk parking on the street, unless a local tells you that it is ok to do so. After the car got towed in Coimbra, we pledged never to park on the street again. When we arrived in Porto the next day, we parked on the street just to take our luggage to our hotel nearby and check-in. We even got a one hour parking permit from the machine nearby. When we walked back to the car about half an hour later, the car was gone. Rachel was sure that the car was stolen because it was hard to believe that the car could have been towed that quickly, and plus we had paid for parking. In panic, we called the municipal police department but kept getting the runaround and running into language issues. Out of desperation, we called our hotel attendant who advised us that the car probably got towed because we parked in a handicapped spot. When we looked around the place we had parked, we indeed saw a small handicapped parking sign near our spot. That actually came as a relief, because as annoying as it is, having the car towed was infinitely better than it being stolen. The attendant called the police department and texted the make/model of our car to a number and right away received confirmation that our car was indeed towed and where we could go to pick it up. We walked over to the police station, paid the fee and picked up the car. Interestingly, the fee was exactly the same (174 Euros) for Coimbra and Porto. The police station in Coimbra only accepted cash, while we were able to use a credit card in Porto. The police was efficient and polite in both places. They even provided us a breakdown of the 174 Euro fee between the parking infraction, towing charge and other processing fees.
In Lisbon on the other hand, we parked the car right in front of our apartment for three days (on the advice of our abnb host) and nothing happened. My advice still is to always park in a garage and save yourself the risk of getting towed!
Trip itinerary
We covered 6 cities on our trip – Madrid, Cordoba, Seville, Lisbon, Coimbra and Porto in 15 days, with stop overs in Toledo, Tavira and Albufeira. We also spent a day and half hiking in the Serra da Estrela natural park and half a day wine tasting in the Douro river valley). We spent our time in each city efficiently and visited most of the major landmarks. We also incorporated a mix of urban (visits to several palaces, cathedrals and museums), culinary, cultural (Flamenco and Fado performances), relaxation (spa) and outdoor (kayaking in Seville, lounging at the beach in Albufeira, hiking in Serra da Estrela park and wine tasting in the Douro valley) experiences. I think we did a great job picking our itinerary and I recommend it to anyone interested in experiencing a significant part of Spain and Portugal in a relatively short amount of time. That said, I recognize that while I enjoy this style of whirlwind traveling, it is not everyone's cup of tea (including Rachel's). For those interested in a more relaxed trip with more time spent ambling through the streets, ducking in and out of shops and admiring the views at the numerous miradores, I recommend cutting out Cordoba and Coimbra and adding a day in Porto.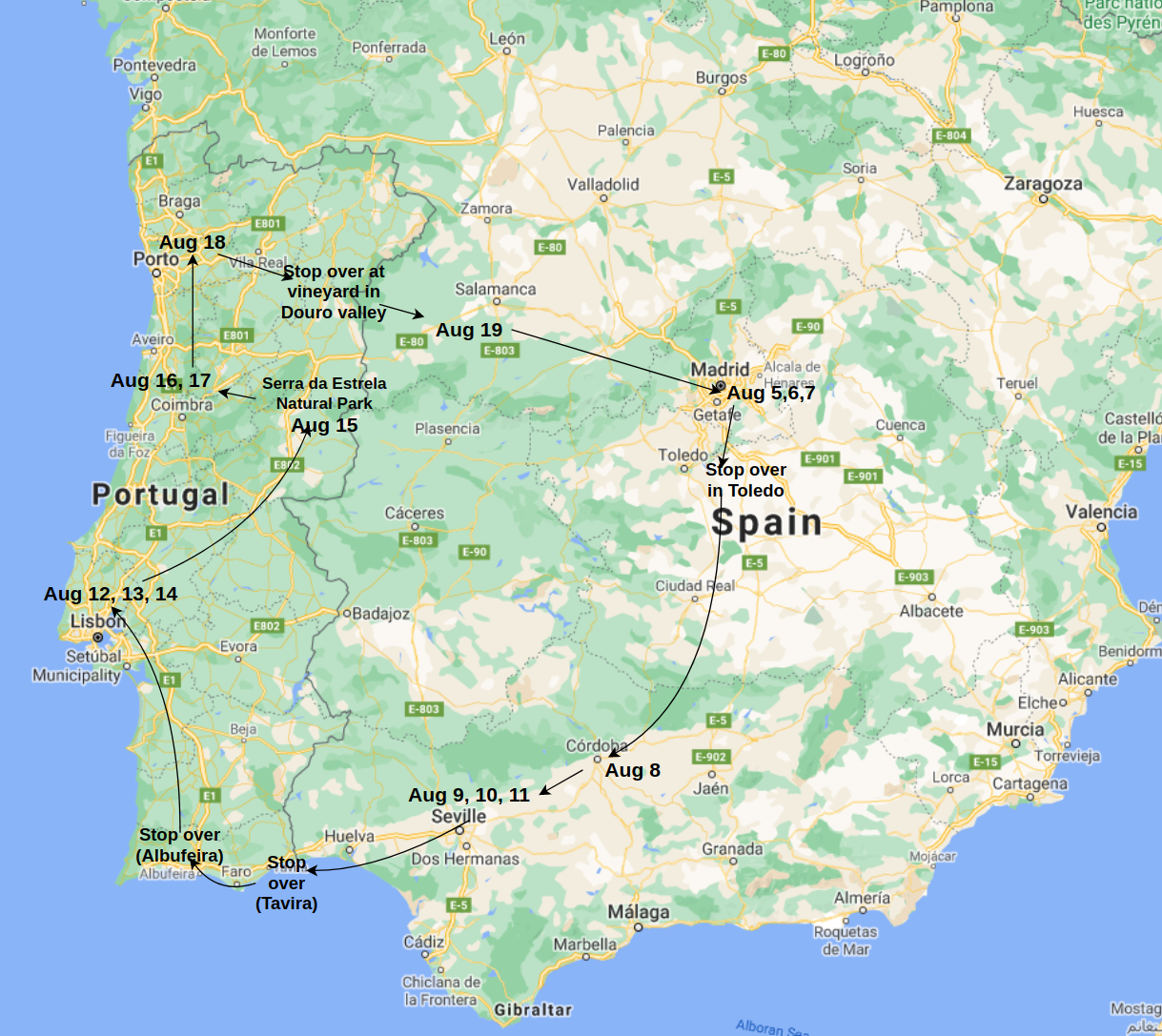 Food and drinks
The food and drinks in Spain and Portugal are excellent. The food generally uses fresh, high quality ingredients and the drinks (particularly coffee and wine) is excellent and cheap. We got used to having 3 course dinners for two for ~40-50 Euros and excellent wine for 2-3 Euros a glass! Breakfast/Brunch consisting of great coffee, fresh orange juice, croissants/bagels, eggs/smoked salmon etc was ~20 Euros for two. I don't quite understand why wine (in restaurants) is so expensive in the US. We have several large wine growing regions and therefore a large domestic supply of good wine and yet a glass of good wine costs 12-15$ in a DC restaurant. Appears to be a market failure!
Restaurant recommendations
Spain and Portugal are great destinations for a culinary experience. The food and drinks are generally cheap and excellent. See below for some restaurant recommendations in each city on our trip. Calling and making a reservation in advance is generally a good idea, specially in the busy season.
Madrid
Sobrino de Botin: Oldest continuously operating restaurant in the world.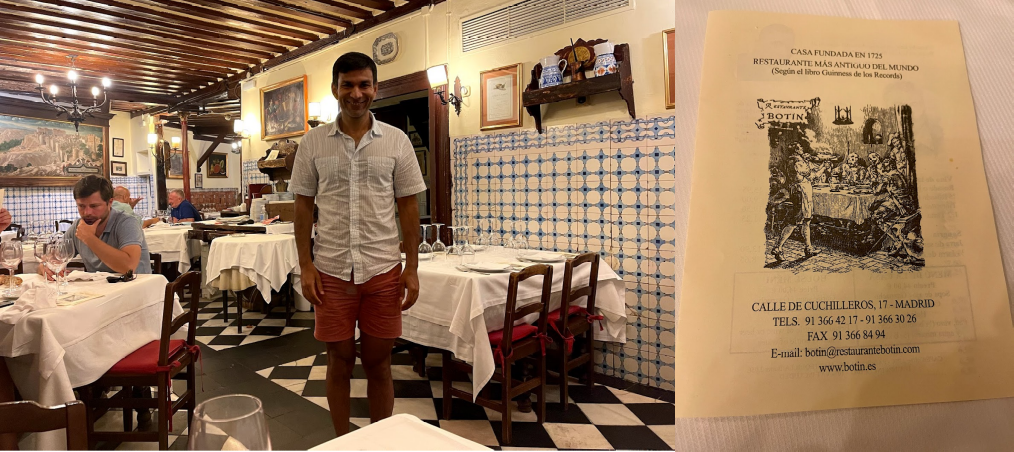 Sanissimo: Amazing vegan food. Highly recommend this restaurant!
On the way from Toledo to Cordoba
El Mirador de la Mancha: a rustic resort with cabins and restaurant and lovely views of the surrounding country side. We found the Google maps directions to this place slightly incorrect as following those directions led to a closed gate. I recommend calling the restaurant for the correct directions.
Seville
Mirla Blanca: a small restaurant on the non-touristy side of the river. The seafood and service were excellent.
Terra viva: A somewhat upscale restaurant near plaza Nueva. I had Salmorejo soup followed by a dish consisting of goat cheese and sardines. We also shared a paella, which I do not recommend. It was mostly rice and not that much fish. The wine from the Douro river valley was excellent.
Mariatrifulca: great river-side restaurant for dinner/drinks. We had some late night drinks there
Lisbon
O Corrido: This place came highly recommended (on Google reviews) for dinner + Fado (traditional Portuguese music) and was right behind our abnb. The food was good but I found the place to be a bit claustrophobic (Rachel doesn't agree with that opinion). The seats were also quite stiff and a bit uncomfortable. The Fado performance was nice. There were two guitar players and four singers who sang 3-4 song each. I recommend experiencing the dinner + Fado combo in Lisbon, but you may be able to find better venues, specially with more comfortable seating.
Serra da Estrela park
We spent a day and half in the Serra da Estrela park in central Portugal to do some hiking. We stayed at the Luna hotel Serra da Estrela. The hotel's restaurant served a buffet style dinner which was excellent.
Coimbra
O Croisant: Excellent breakfast/brunch place in downtown Coimbra. We brunched twice there!
Boutique tapas: small, cozy place with great food and wine and excellent service. Besides the great food and service, the server helped us figure out what to do about the car (which we had just realized was missing).
Porto
Casa Beira Douro: Excellent river-side restaurant with gorgeous views of the river. Highly recommended for dinner. Ask to be seated upstairs with a river-view if possible
Madrid: Aug 5 – 9
We stayed in the neighborhood shown below in an Abnb. Both the neighborhood and our Abnb turned out great. We were within walking distance to most of the places we visited.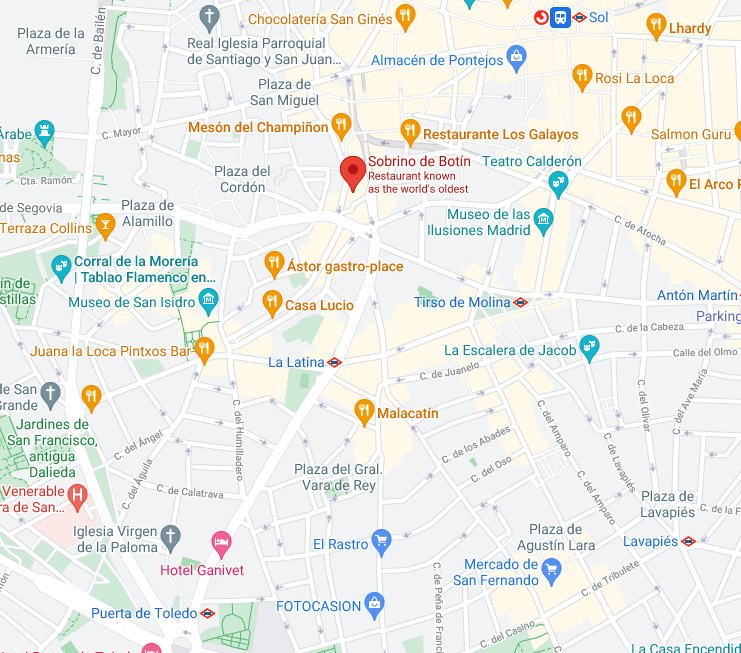 Key experiences:
Day 1
Sandeman's walking tour:
We did these walking tours in Madrid, Lisbon and Porto. I highly recommend them as a quick way to learn some neat facts and figures about a city and get recommendations for restaurants, things to try and places to visit. Here are some stories and pictures from the tour
The tour guide told us the story of the Iberian peninsula, which I've already covered in. According to our guide (also corroborated here), the Romans used to buy bottles of Portuguese urine and use that as a rinse. Importing bottled urine became so popular that the emperor Nero taxed the trade. The ammonia in urine was thought to disinfect mouths and whiten teeth.
Museum de Prado
El retiro park: We wanted to go boating in the lake in the park, but the boat rentals were closed
We wanted to try some outdoor Salsa dancing. Rachel posted on some latin dancing Facebook groups and got a few recommendations. One of the recommendations was actually El Retiro park, however we failed to find any salsa dancing. From the park, we took a taxi to the other recommended location – Cerro del Tio Pio park, and found the outdoor salsa dancing pretty quickly. We had a great time dancing to a few salsa/bachata songs and also witnessed a beautiful sunset.